As much as it may be somewhat a hassle for you to know which is the Best Portable TENS Units for you to go for, this is even made more complicated especially if you have never heard of them before. Well, truth be told, the jargon and technical terms used when it comes to the tens units will be confusing in most cases.
Not to worry, however, we're here for you…
Bringing to you the best buying guide of 2018, you will, by the end of this article have utmost knowledge of what you should do when it comes to using the unit. Even better, you will be able to know about some of the best picks of 2018 as far as the tens units are concerned.
Well, without further ado, let's first have a look at how you should go about when using the TENS unit.
Best portable tens units in 2018 – buying guide
What exactly is a tens unit?
Well, in some cases, you wouldn't know exactly what you need until you lay your hands on it. As much as you may be under the prescription of the strongest painkillers they still may have a side effect on your body.
What if we told you that there is a better solution to this?
As it turns out the tens (transcutaneous electrical nerve stimulation) unit is a small and electrically stimulated machine that makes use of electrical impulses to ease the pain on almost any of your body parts.
The tens unit is normally battery operated- either rechargeable or otherwise which has got leads that are connected to electrodes or sticky pads in a layman's explanation.
How to use the portable TENS units –
We've already established that it is small in size and its use mainly revolves around electric use which to most people may be assumed to be quite a hassle.
Here's how you should go about the unit…
First of all, you need to be certain exactly where the pain is worst or rather extreme. Having done so, clean the affected part with alcohol then dry it off. You should then have a thin coat of gel at the bottom of each electrode (this greatly helps the electric signals to get to the nerves beneath your skin
After you are certain that the TENS unit is fully charged, you should now shift your attention to the control knobs. Most of the units have got two control knobs. One of them makes the electric signals either stronger or weaker while the other hastens or slows down their pace. Before starting the treatment, you should turn them off first.
Turn the knobs slowly. Doing so, you will feel a tingling sensation which is totally normal. Adjust the control knobs until they are at the correct setting after which you can then hook the unit on your belt or place them in your pocket.
The basis behind the working of the tens units is that the electrical impulses emitted will minimize the main signals heading to the spine or brain which simply relieves the pain. Even better they stimulate the production of endorphins which are our natural painkillers.
What to do after the treatment-
After you are done with the unit, first turn the knobs to the off position then unplug the electrode wires from the tens unit. After doing this, wash off the gel on where the unit was placed unless you have another treatment shortly after. Clean the electrodes with soap and water to remove the gel then carefully dry them.
Finally, remove the batteries from the tens unit and replace them with charged ones to have the unit ready for the next treatment. The best portable tens units are the rechargeable ones- you should consider getting one of these.
Will there be any risks or side effects?
As far as the tens units are concerned, they do not pose a health hazard to most people. In rare occasions, some people may be allergic to the pads used in which case they may experience some redness or irritation on their skin. The solution to this is using special pads for those with allergic reactions.
In some cases, the TENS unit may be quite hazardous. If you have a pacemaker or epilepsy, it's not recommended. Also, if the odds that you are pregnant are high, it is not recommended for early pregnancy.
5 Best portable tens units – Comparisons
Image
Product Name
Portable
Modes
Price

[email protected]

Premium
Yes
16-Mode
Check Latest Price
AccuMed AP212 Portable
Yes
16-Mode
Check Latest Price
United Surgical Tens 7000
Yes
5-Mode
Check Latest Price
Tens Unit Ohuhu Rechargeable
Yes
16-Mode
Check Latest Price
PurePulse Electronic Pulse
Yes
6-Mode
Check Latest Price
5 Best Portable TENS Units Reviews
With utmost knowledge on how to effectively use the unit, here are 5 of our best.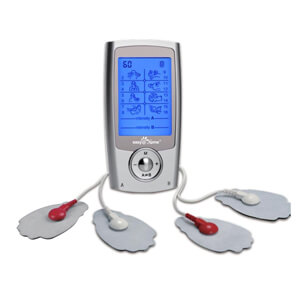 For anyone who is suffering from any chronic pains or the common aches and pains or is simply looking for a drug-free alternative for relieving any muscle pains and tension, then this is definitely what you should go for.
100% effective and safe for anyone to use. When it comes to drug-free alternatives for pain relief, the [email protected] 16 just so happens to be one of the best options you could go for. It is FDA approved and comes with built-in rechargeable batteries.
Handheld and portable. Designed for use anywhere and at any time, you will conveniently be able to use it and at the same time go about your business without any discomforts or setbacks.
What We Like –
Easy to use: the large LCD shows your intensity selection as well as treatment mode.
Handheld and portable- this makes it easy to use even while on the go.
Effective and safe for use: it's an FDA approved for both pain relief and OTC use
What we didn't like –
The pads may be difficult to have stick on your skin after some time.
Frequently asked questions
Q: will they fit EMP unit?
A: yes, they are compatible for most electrical stimulators and massagers
Q: does the gel go on the skin or the device
A: it goes on the skin
Q: what is the actual size of the unit?
A: it measures 5.25″ x 3″ x 0.5″
2.

AccuMed AP212 Portable TENS Unit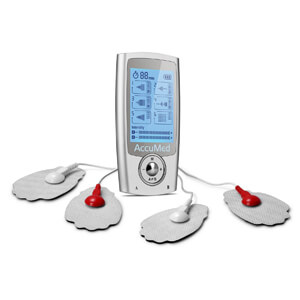 Looking for a simple unit with utmost convenience, the AccuMed AP212 is definitely what you need.
Here's what it's got…
Completely natural. With the AccuMed AP212, the natural endorphins of the body are naturally triggered so that the pain is minimized or completely blocked and more so, the tissue generation process is stimulated.
Utmost portability. Besides being compact sized, it weighs about a tenth of a pound which makes its use anywhere convenient and at any time as well. This unit is also rechargeable and comes with an AC adapter and a USB included.
Easy to use- from the large LCD display, you can see the setting as well as the remaining time (which can be specified from 10 to 60 minutes). In order to use it, all you have to do is plug in the electrodes to the machine and have the pads on your skin then choose the convenient setting
What We Like –
Portable- it's small and compact in size for you to have at any place and time
Considering it's completely natural, you won't have to worry about any side effects or toxins from using it.
Easy to use- on the display you can see the setting present as well as the remaining time.
What we didn't like –
Though it's portable, it does not come with a carrying case.
Frequently asked questions
Q: is this just the TENS or also the EMS?
A: it's both
Q: what are the dimensions?
A: 2×4 inches
Q: how long will the unit work on one charge?
A: this entirely depends on how frequent you use it but it could go for months
3.

Tens Unit – Tens Machine for Pain Management
We're not halfway done with our list and we're doing good so far. Let's have a look at what the third has in store for us.
It would be awesome if you could get the best portable TENS unit, wouldn't it?
With this unit, you'll get 4 individual electrodes out of the box, a manual, the TENS unit, lead wires, 9-volt battery, the instructions and a carrying case. With these at hand, you're guaranteed to have the best treatment sessions at any time.
Has got 5 operation modes. There's the burst, Normal, Modulation, Strength Duration 1 AND Strength duration 2. Each of these will come in handy regarding the pain intensity you're feeling.
Also: One of the features that makes it entirely unique I that you can automatically time and record sessions. Get to record over 900 hours.
What We Like –
Comes with a carrying case for effective storage and also for use while on the go.
With the 5 operational modes, you will get exactly what you need from it.
The settings are flexible and adjustable to use for utmost convenience.
What we didn't like –
Be careful while tweaking the settings, otherwise, it may be too intense for you
Frequently asked questions
Q: how long can it run on a single charge
A: about 48 hours
Q: is the power shared between the two channels?
A: no, both are maxed strength
Q: does it come with a belt clip?
A: yes, it does.
4.

Ohuhu FDA Tens Unit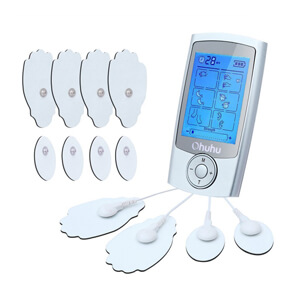 Coming second last on our list is the Ohuhu FDA Tens Unit. Well, let's see what it's got in store for us, shall we?
Above all else, your safety matters most. Taking this into account, the unit is guaranteed to be FDA, CE and ROHS approved. This ensures optimal safety for use and at the same time, you're protected from any risks of using medical prescriptions.
Multi-functional. The unit aids in easing pain, fatigue, enhancing immunity, and spleen and stomach recuperation. In a nutshell, it gives you quite a lot for such a small package.
Easily adjustable time and intensity. The best thing about the unit is that it comes with 20 intensity levels and you can adjust the time intervals to anywhere between 10 and 60 minutes.
Comes with 16 pre-programmed modes. You can choose between diverse offerings such as brain, feet, ear, kneading among others for the best treatment sessions
What We Like –
Multi-functional: with numerous functionalities, your health, in general, will be better other than getting rid of pains.
The time and intensity are adjustable.
Has got 16 pre-programmed modes for better convenience and results
What we didn't like –
Doesn't come with a manual instruction
Frequently asked questions
Q: does it have a belt clip?
A: no, it doesn't
Q: will it build muscle?
A: no, it's only meant for pain relief
Q: are the pads reusable?
A: yes, they are.
5.

PurePulse Electronic Pulse Massager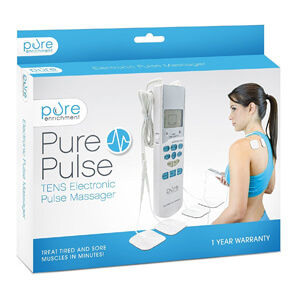 Coming last on our list is the PurePulse Electronic Pulse Massager.
Let's see what it packs under the hood, shall we?
First of all, it comes with a comprehensive LCD display that aids in sharing info about your therapy sessions such as the pulse speed, treatment time and the treatment areas.
So as to accommodate the different muscle groups on your body, it comes with 6 high-frequency stimulation modes. This works effectively on the waist, shoulder, joints, hands/legs as well as the foot soles.
The fact that it is FDA approved means that you can use it free of any worries. In addition to this, it also comes with a one-year warranty hence your utmost satisfaction is guaranteed.
The dual channels ensure that you meet your unique muscle needs and accommodate the different muscle groups in your body.
What We Like –
FDA approved hence completely safe for use
The dual channels allow you to cater your muscle needs and customize your treatment at the same time.
Has got 6 high-frequency stimulation modes for accommodating your different muscle groups
What we didn't like –
No backlight on the display or the buttons
Frequently asked questions
Q: can I use it on 220w volts?
A: it uses 4 AAA batteries rather than a plugin
Q: does it work with arthritis?
A: yes, it works with rheumatoid arthritis
Q: how many pads come with the unit?
A: the unit comes with 4 pads
Final Verdict
Coming to the end of our best portable tens units review, it's clear that above all else, utmost attention should be paid to how the unit performs rather than how much it costs or what brand it bears. From our guide, you've got an idea on how one should work and from 5 of our best, you can choose either that pleases you.
Before you make your purchase, ensure that it is approved for use OTC for the sake of your health. Al in all, it's quite important that you examine your unit after unpacking it since it will be going on your body.
Best of luck in getting the best portable tens units.
---
Relevant Resources: