If you're looking to find a complete travel system rather than just a stroller, you're going to find that this set is one of the best options because it comes with a stroller and the option of using a car seat as well. And when it comes time for it, the stroller can easily accommodate the car seat with the Quick Click system so that you will enjoy an even easier experience for using this stroller. As you'll see from the features below, there are so many great things that this stroller has to offer.
Eddie Bauer Tritrek Travel System Reviews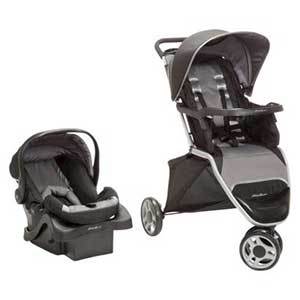 Simple Fold Design
When it comes time to fold up the stroller to take with you wherever it is that you might be going, you will rest easy knowing that it is incredibly easy to fold this stroller. With a simple lift-to-fold design, you will find that collapses quickly and easily and when it is folded, it will store with no problem at all because it is compact.
Three-Wheel Design
While some of the other strollers that you're going to find are going to use the traditional four-wheel design that you are probably used to seeing by now, this stroller is going to give you a unique three-wheel design. This three-wheel design is great because it allows you to switch between a locking or a swiveling front wheel and helps to give you maximum maneuverability.
Infinite Recline
If you want to have your child lay down when they are using the stroller, then this is going to be a great feature for you because it has an infinite recline so that it will be able to recline as much as you need it to. Additionally, it will be able to sit up as much as you need it to so that your child can eat on the child's tray if they wish.
Quick Click System
If you are going to purchase this particular stroller because it comes with a full travel system and gives you the ability to have a car seat as well, then you're going to enjoy the Quick Click system. This system allows you to take the car seat right from your car and click it right into the stroller so that you are able to transfer your child from car to stroller with little to no work.
Pros
Three-wheel design
Locking or swivel wheel
Simple lift-to-fold design
The automatic lock allows the stroller to stand on its own
Quick Click helps to accommodate car seats
Cons
Fabric rips way too easily
Sometimes difficult to close
FAQ
Q: Can the car seat that is included with this be used for an infant or a newborn?
A: Yes! The car seat is able to be used for newborns or any kids ranging from 4 to 35 pounds.
Q: How tall is the handle from the ground when I am pushing the stroller?
A: Measuring from the ground, the handle is going to be a little over 40 inches tall.
Final Verdict/Conclusion
In terms of trying to find a stroller that is going to accommodate you in more ways than one so that you can get a full travel system with a car seat, you're going to love what this stroller has to offer. It comes with a three-wheel design to help make sure that you can easily maneuver the stroller wherever you need it to go and the easy fold design helps make it simple to bring with you wherever you need it.
Related Resources: